There are around a dozen species of frog recorded from our region representing three families of frogs (see Checklist below). There are the tree frogs, family Hylidae, often distinguished by the broad, flat pads on the tips of their fingers and toes and the 'Australian frogs' from the endemic Limnodynastidae and Myobatracidae families.
Our frogs are heard more often than they are seen. Most species can be identified by call, so recording the call on your phone and submitting it using the Australian Museum FrogID app is a good way to record the species in the area and to provide valuable data for frog conservation. The team at FrogID will respond to your submission and confirm your identification.
Tree Frogs
This group of frogs is widespread globally. All local species in this group are from the genus Litoria. The commonest species is the Brown Tree Frog, Litoria ewingii. This species occurs in both urban and rural areas. Other members of this group that have been recorded locally include Peron's Tree Frog, L. peronii, Growling Grass Frog, L. raniformis (vulnerable), and Verreaux's Tree Frog, L. verreauxii (uncommon).
Australian Frogs
Eastern Banjo Frog or Pobblebonk (Limnodynastes dumerelii)
This common frog has one of the most familiar calls sounding like a banjo being plucked. It is one of the largest frogs in the area. The large, longitudinal gland stretching back from below the eye to above the arm is a distinctive feature of this species.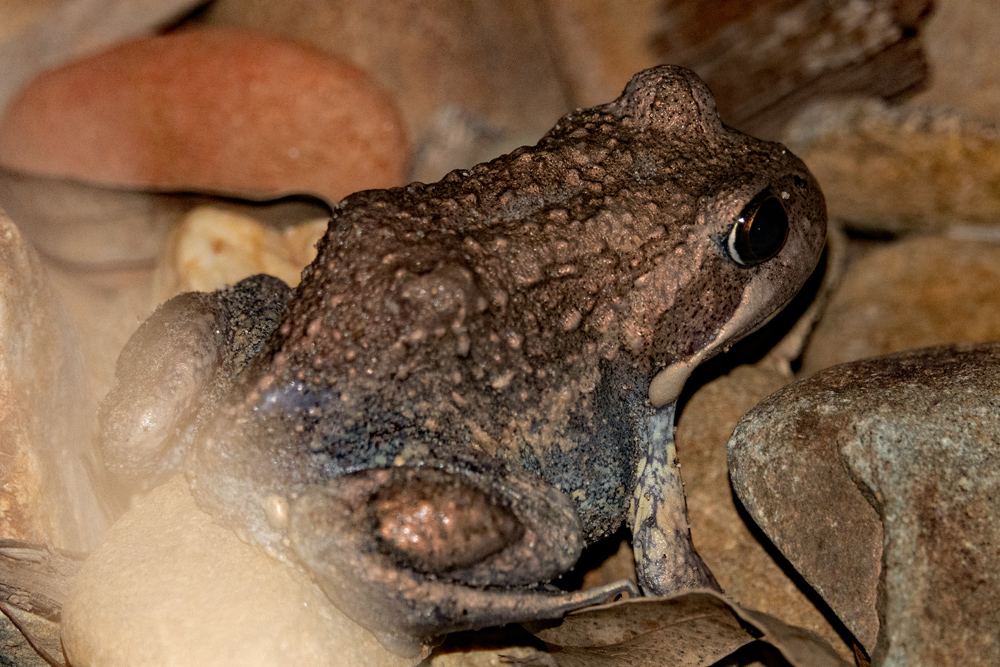 Spotted Grass Frog (Limnodynastes tasmaniensis)
Another fairly common frog. The main call is a distinctive clicking sound, rather like two stones being knocked together.
Common Eastern Froglet (Crinia signifera)
This is another very common frog for our region. Adults are small, approx 25-30mm in length. Males call from the shelter beneath rocks or vegetation. When conditions are right many of these frogs can be heard calling from wetlands.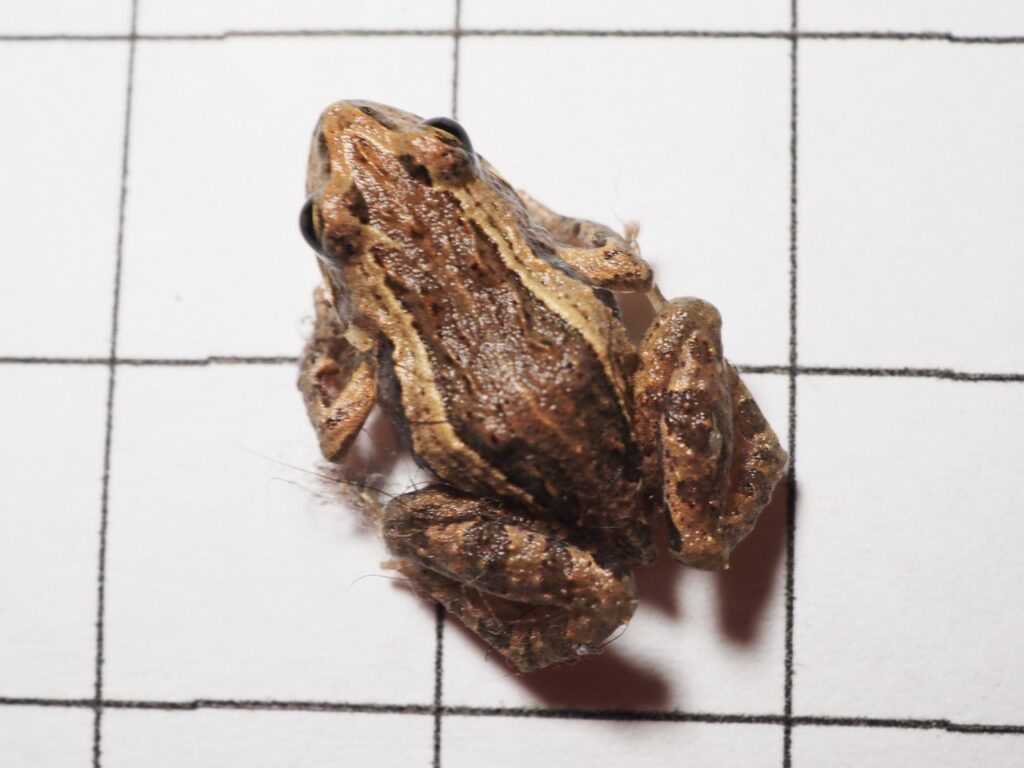 Checklist
This Checklist of Amphibians of the Mount Alexander region is based on observations for the region recorded in the Atlas of Living Australia.
| Common Name | Species Name | Notes |
| --- | --- | --- |
| HYLIDAE | | |
| Brown Tree Frog | Litoria ewingii | |
| Peron's Tree Frog | Litoria peronii | |
| Southern Bell Frog | Litoria raniformis | FFG - Vulnerable |
| Verreaux's Frog | Litoria verreauxii | |
| LIMNODYNASTIDAE | | |
| Brown-striped Frog | Limnodynastes peronii | |
| Eastern Banjo Frog | Limnodynastes dumerilii | |
| Spotted Grass Frog | Limnodynastes tasmaniensis | |
| Sudell's Frog | Neobatrachus sudellae | |
| MYOBATRACHIDAE | | |
| Brown Toadlet | Pseudophryne bibronii | FFG - Endangered |
| Common Eastern Froglet | Crinia signifera | |
| Eastern Sign-bearing Froglet | Crinia parinsignifera | |
| Eastern Smooth Frog | Geocrinia victoriana | |
Further reading:
Baker, K., Birkenbeil, A., Nicholas, H., Native Plants and Animals of the Chewton Bushlands, Chewton, Chewton Bushlands Asssociation, 2017.
Tyler, M.J., P., Knight, F., A Field Guide to the Frogs of Australia, Second Edition. CSIRO Publishing 2020.
Tzaros, Chris, Wildlife of the Box-Ironbark Country, Melbourne CSIRO Publishing, 2021.